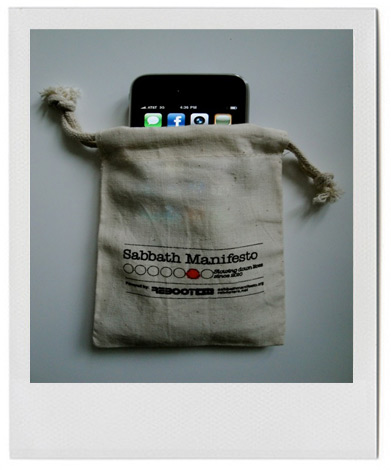 So, you are reading my blog (thanks!) and you are thinking, "Wow! All of this Shabbos stuff sounds great! A day to recharge and spend real quality time with those I care about is just what I need! BUT..." But you aren't religious. But you aren't Jewish. But you like to watch sports. But you have to do your errands for the week.
Enter
The Sabbath Manifesto
. It is a "creative project designed to slow down lives in an increasingly hectic world." Basically, the creators are a group of artsy folk (not religious, mind you) who wanted to find a way to just slow down.
Do you feel ready to slow down? This Saturday, March 4 is the
National Day of Unplugging
. The
Sabbath Manifesto
challenges you to turn off your technology from sundown on Friday until sundown on Saturday. Visit their
website
to sign up to unplug.
If you aren't sure how to start the "unpluggedness",
The Sabbath Manifesto
created
10 Principles
for slowing down one day a week:
Start with the first principle this week:
avoid technology
for one whole day. You will be amazed how great it feels to have a real conversation with the interruption of the cell phone, Twitter, Facebook, texts, EVERYTHING.